An atlas of war and tourism in the Caucasus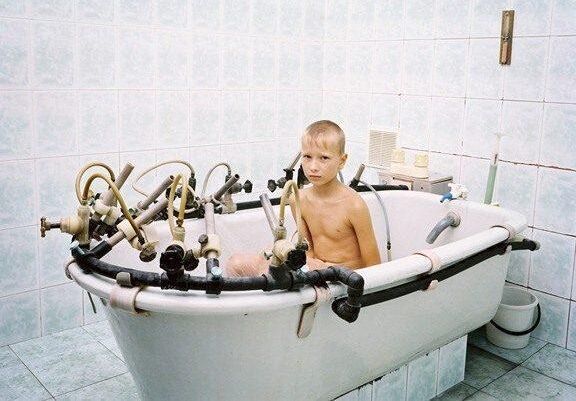 The Sochi Project - An atlas of war and tourism in the Caucasus
Photographer Rob Hornstra (NL, °1975) and journalist Arnold van Bruggen (NL, °1979) started their mammoth project in 2009. They travelled for the first time to the southern Russian city of Sochi in order to make a photographic documentary. Sochi is the subtropical setting for the 2014 Winter Olympic Games. Five years and eleven trips later, The Sochi Project chronicles the turbulent region around the city, from the unknown, apostate little country of Abkhazia to the south of Sochi to infamous republics such as Chechnya and Dagestan on the other side of the mountains. The region is rich in contrasts, characterised by poverty, separatism, terrorism, mass beach tourism and now the upcoming Olympics - to date, the most expensive ever held.
"The Olympic family is going to feel at home in Sochi", according to the Russian president Vladimir Putin in a rare moment of speaking English. The propaganda machine is certainly running at full throttle. The entire region is being transformed into a winter sports paradise. The question is, will other journalists - when they descend on the Games in huge numbers - also gain access to the wider region around Sochi? Hornstra and van Bruggen wanted to be there before the illusive version was complete.
The purpose of this "slow journalism" project is to inform as large a public as possible about the tumultuous region that will host the 2014 Winter Olympics. The project was funded by donations from 634 private persons.
Many refused press cards, closed border crossings, overzealous law enforcement officers and a few Russian cells later, The Sochi Project was finally completed. Corruption, violence, terrorism and tourism are the common themes that tie the geographical regions of Sochi, Abkhazia and the North Caucasus together.
The exhibition The Sochi Project: An Atlas of War and Tourism in the Caucasus will also be shown at the DePaul University Art Museum in Chicago. The Winzavod Contemporary Art Centre in Moscow cancelled the exhibition one week before the opening when the Russian embassy withdrew Hornstra and van Bruggen's press visas.
Curator: Joachim Naudts
Thanks to Flatland Gallery and Kummer & Herrman