My story is your story
As Roland Barthes so endearingly proved in his essayistic book Camera Lucida (1981), photography is an uncertain medium.Roland Barthes, Camera Lucida (New York: Hill and Wang, 1981), 16-18. Not only does the delicate balance between the representing gaze and represented subject create ambiguous object-subject relationships, the complexity of 'that-has-been'Roland Barthes, Camera Lucida (New York: Hill and Wang, 1981), 76-77. in time and space is at all times embedded in a photograph. It is where a past existence meets a present reality of interpretation and emotion. Yalter, Sedira and Barrada have used this ambiguous constitution of photography in transformative ways that could create, to use the words of T.J. Demos, 'new modelings of affect.'T.J. Demos, The Migrant Image. The Art and Politics of Documentary during Global Crisis (Durham: Duke University Press, 2013), xiv. In her photographic series Turkish Immigrants (1977; Figure 1), Yalter used ethnocriticalThis is a term the artist uses to describe her artistic research and to distance herself from 'sociological' or 'ethnographic' research. Her methodology surpasses traditional research forms and entails a deeply grounded criticism of the socio-economic situation of migrants throughout Europe, often also adding a feminist critique to the role of female family members in their exiled contexts. research to document migrant families in different contexts. In her photo installation Mother, Daughter and I (2003; Figure 2), Sedira harnessed the full potential of (self-)portrait photography to recreate the intricate relationships between migrant mothers and daughters. In her series of document photographs, The Telephone Books (or the Recipe Books) (2010; Figure 3), Barrada delved through the notebooks of her own family to create her works. All three projects carry the shared ambiguity of traveling, living 'elsewhere' and the fragile construction of in-between identities, and all three artists departed from their own biographies to construct an image.
After she moved from Istanbul to Paris in 1965, Yalter explored and documented the socio-economic position of economic migrants from Turkey from an activist and feminist standpoint by visiting them in domestic contexts. This ethnocritical research became the basis for her photographic drawing series Turkish Immigrants. The images can be read as a subjective mapping of people, objects, clothing, atmosphere, furniture and emotions that may help us grasp their lived realities. In the chosen detail of the installation, we see three photographs of women sitting in a couch at home. Every picture shows another angle in their position. Each new position represents another relationship: a mother and child, a young female family member, and a slightly older female figure who has a central position in two photographs. Is she the materfamilias when the men are out? Perhaps she is the mother-in-law of the young mother with child, since Turkish tradition dictates that the bride leave her own family and move into her husband's family home.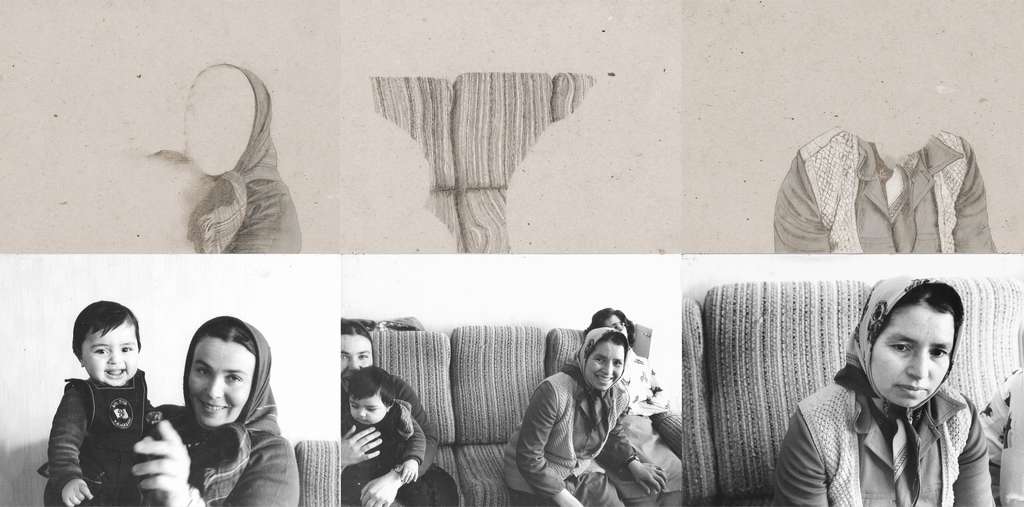 Figure 1:
Nil Yalter, Turkish Immigrants, 1977 (detail from the collage series).
Photo and pencil on paper © Nil Yalter.
Yalter's independent life in Paris was quite different from that of these women, but she stayed aware of the sense of double imprisonment they could experience. While their husbands worked in factories and mines, most women had to stay home (first imprisonment), disconnected from their new cultural and linguistic environments (second imprisonment), in order to fulfil their traditional care-taking tasks. Might the delicate drawings of Yalter, in which she erases faces and bodies to only keep contours of clothing and furniture, symbolise the loss of identity she discovered within these first-generation economic migrants? The woman in the middle picture is laughing joyously in her here and now. In the picture on the right, her big smile is replaced by an expression of sorrowful recounting. How fast things can change, just like the continuous motion of one's identity.
In her photographic triptychs, Sedira tackles the same problems of identity but from a more positive stance. 'How do you tell your identity when your identity is quite complex, perhaps painful at times, but also very rich?' The artist made several (self-)portraits with her mother and daughter in which she positioned herself as an interpreter between them, a mediator between two different manifestations of the exiled identity within one family line. It reminds us of the fact that many sons and daughters acted (or still act) as interpreters for their parents in a new 'home' country. Some parents were illiterate; some simply couldn't learn the language due to discriminatory policies and demanding labour hours. Sedira used her own affective biography as a method to share the pain and richness of a multicultural identity.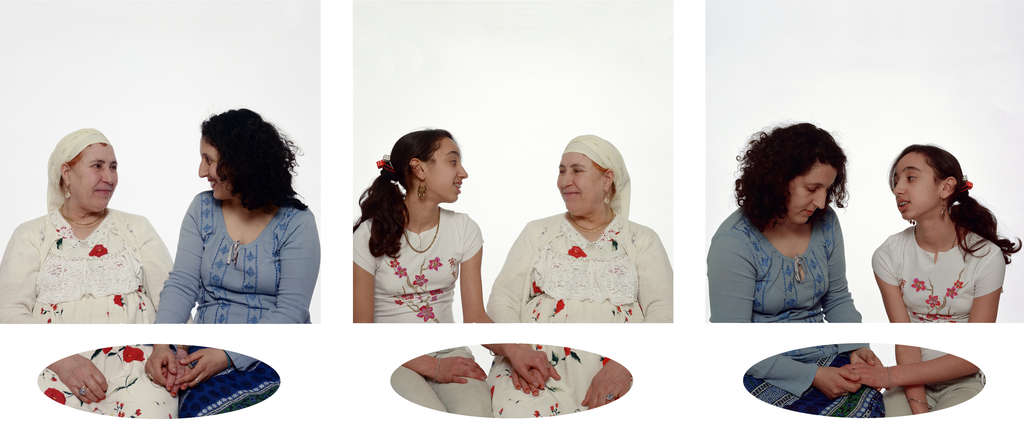 Figure 2:
Zineb Sedira, Mother, Daughter and I, 2003 © Zineb Sedira.
All Rights Reserved, DACS/Artimage 2020.
Image courtesy Kamel Mennour, Paris.
The portraits each received an oval extension piece that focuses on the holding of hands as a red thread throughout the relationship and the flawed communication between the three women. This is not a group portrait: like in a sacra conversazione, we see the women exchanging thoughts and memories one by one, in an intimate atmosphere, before the viewer. The grandmother looks with pride and joy to her granddaughter, almost with relief (all's well that ends well), but she seems to reserve a deeper gaze for her daughter. Perhaps now that Sedira is a mother too, she may fully understand her own mother's experiences with the hardship of exile, the difficult passing on of heritage in another country and fighting or accepting expectations of motherhood in different cultures. In ancient Greek, the word 'storgè' expressed familial love and unbreakable family bonds as strong and sturdy as the sound of the word itself. I recognise the way Sedira, her mother and her daughter hold each other's hands in solidarity and exchange experiences of motherhood and childhood. It's as if these hands are the tools in a ritual to pass over the subjective experiences of all their former mothers to each next generation, to let the storgè flow and store it in these photographic portraits.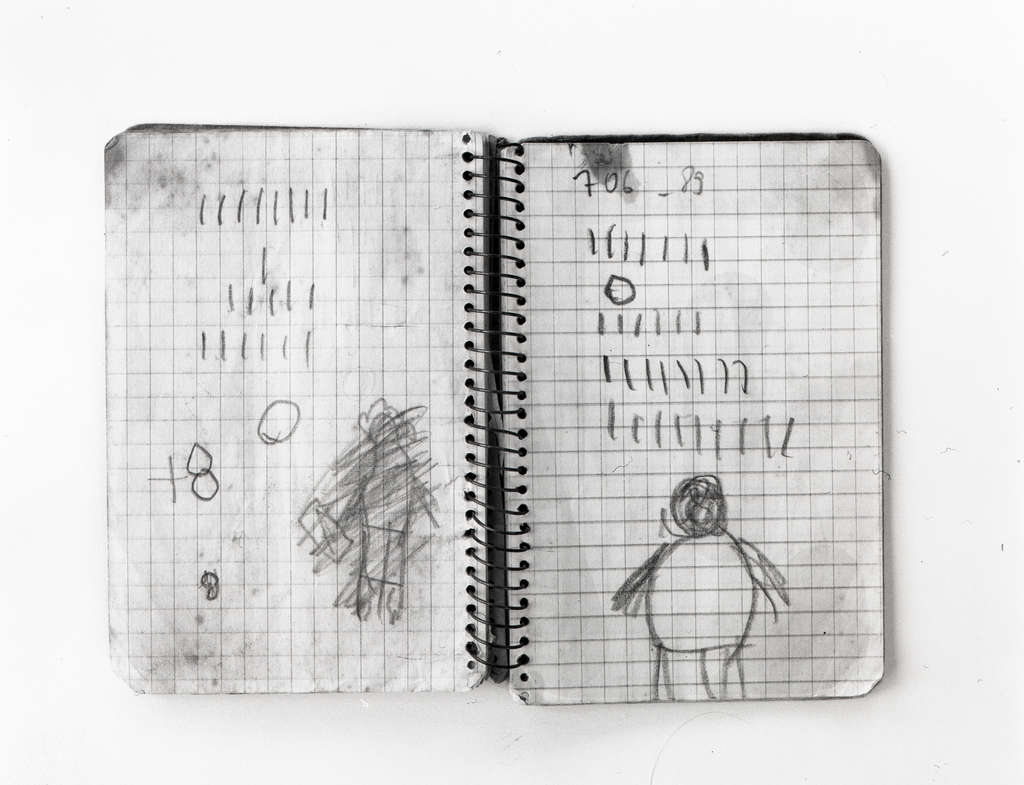 Figure 3:
Yto Barrada, The Telephone Books (or the Recipe Books), nr. 5, 2010, C-Print.
Image courtesy of Barjeel Art Foundation, Sharjah.
Photographed by Capital D.
In the same way Yalter and Sedira explored the construction of complex cultural identities through intergenerational communication and language barriers, Barrada unveiled the consequences of illiteracy in her own family. Barrada's illiterate grandmother, named Z.A.B., had ten children. The travels and migrations of her children necessitated her keeping in touch with them via telephone. She devised a coded drawing system to remember phone numbers and associate each child with their corresponding number. Next to noting coded lines and symbols to substitute numbers, she made simplistic drawings of her children, each time adding an identifying trait: the one with the glasses, the one with the four children, and so on. Barrada photographed the pages in this notebook, doubling the documentary value of the document itself but also showing their artistic value as simplistic coded portraits of real people. On the fifth photographic print of this notebook, we see a double page. On the left, there is a drawing of a person holding something that's been coloured over. Is it a book, a contract, a letter or a small suitcase? Is this a child of hers who passed away and is no longer available by telephone, or did she simply draw a mistake? On the righthand page, there is the drawing of someone with no clear personal traits other than a nicely rounded belly. The graphite smudges on the chequered pages give away the intensive use of this notebook. The Z.A.B.'s coded and idiosyncratic writing system reveals no specific signs of affection for the represented children. It's not a diary, but it does carry her memories and associations about each of her children in its most minimal appearance. The documentary character of Barrada's work is to be taken quite literally: it's a photographic documentation of a document; it's data documenting ten children. However, the notebook itself reveals important information about the experience of identity in a dispersed family, without using any words, realist portraits, names or other 'true' data. It gains realism in speculation by its candid nature and honesty.
The different examples Yalter, Sedira and Barrada provide do not serve as objective documentations of the proposed complex exiled identities. They remain hypothetical, searching and transformative in the sense that they're wandering through individual memories and experiences to achieve knowledge about commonalities, so the artists can also give themselves a clearer place within the world. Yalter, Sedira and Barrada approach ego-documents with aesthetic freedom. As George Didi-Huberman stated: 'it is in the very point where evidence is doubtful that artistic practice frequently turns up to offer its own answers. Hypothetical, fragile or paradoxical answers, of course.'