REFRAMING THE COLONIAL GAZE:
PHOTOGRAPHY & PROPAGANDA
FOMU invites Salomé Omanga Ysebaert, culture programmer, to devise two museum evenings at FOMU. Expect a packed night, with panel discussions, DJ sets, short films and performances. The exhibition, Recaptioning Congo, will remain open throughout the event.

PROGRAMME
7 pm: Doors
7.30 pm - 7.45 pm Opening performance Elise Tumba Kiabi (screening room 1)
8 pm - 9.30 pm: Panel Discussion: Reframing the Colonial Gaze: Photography & Propaganda (screening room 2)
10 pm - 10.20 pm: Live Performance Annie Lulu (in the exhibition)
10.20 pm - 10.40 pm: Marie Paule Mugeni reads Jean Bofane (in the exhibition)
10 pm - 12 pm: DJ-set Agnes Kena at FOMU café

CONTINUOUS SHOWING: SHORT FILM PROGRAMME at Cinema Lumière
The exhibition Recaptioning Congo and FOMU shop are open for the entire evening.
(The agenda may be subject to last-minute changes)
OPENING PERFORMANCE:
ELISE TUMBA KIAMBI
Tumba (she/they) is a spoken word artist, jewelry designer, spacemaker and community organizer at Mama's Open Mic. Exploring the perception of Self through the eyes of Others, Tumba works primarily from their own experiences of uprootedness, cuts in family ties and healing the wounds they produce.
On stage, Tumba creates an intimate setting to share never-finished work through continuous conversation. Retracing her steps and reconnecting to roots using imagery and imagination, she hopes to provide a safe space for self-expression and that of others, experimenting with guided meditations, affirmations and more. Their work is a collection of afterthoughts that refuse to fit into the bigger picture.

7.30 pm - 7.45 pm at screening room 1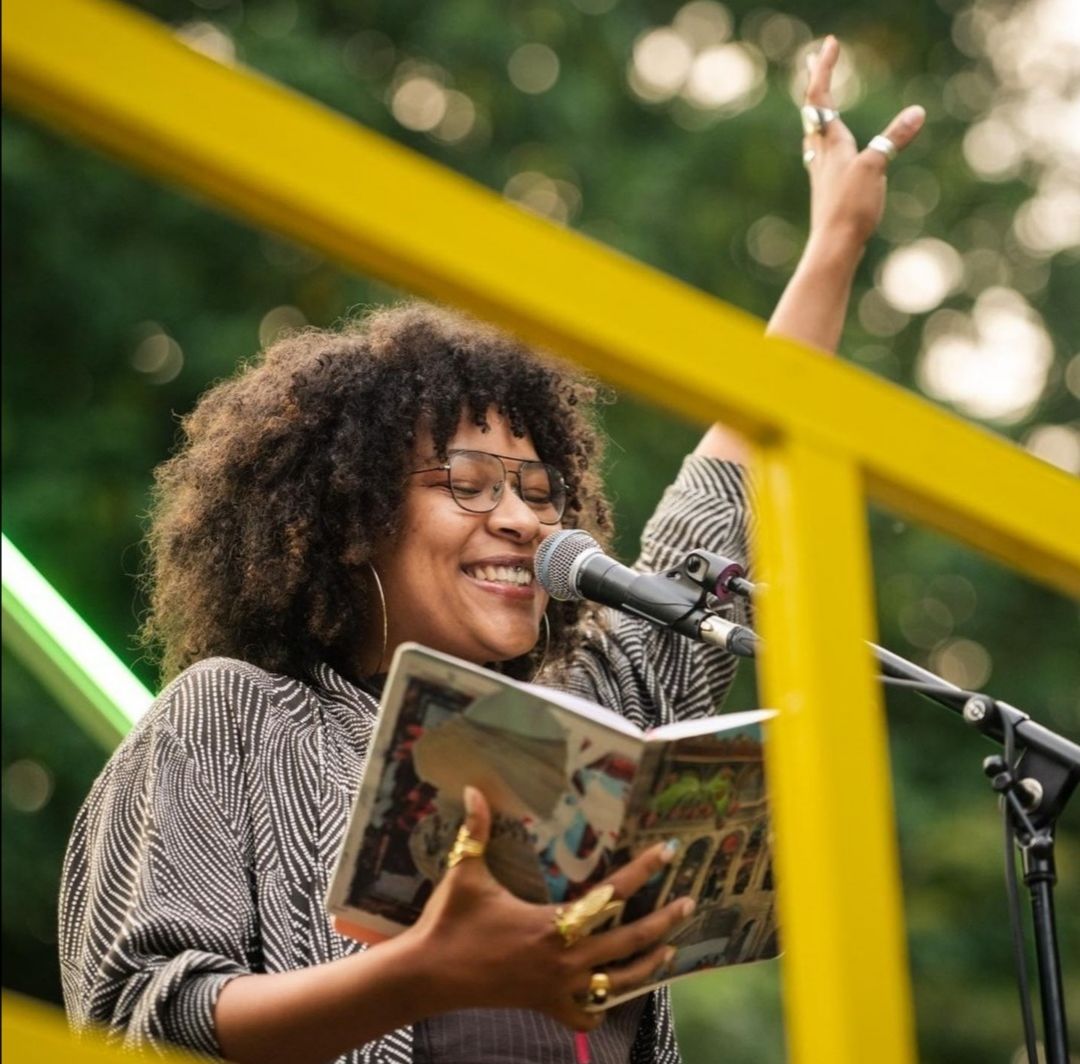 PANEL DISCUSSION:
REFRAMING THE COLONIAL GAZE: PHOTOGRAPHY & PROPAGANDA
Colonial photography was an important propaganda tool during the colonial period. But how exactly did it work? And should these photographs be displayed? What is their meaning in today's world, and how are they being used?
Reine Nkambiote will discuss these topics with the artist Sammy Baloji and researcher Jana Haeckel. Afterwards, the floor will be opened for questions from the audience.
The panel discussion will take place in English
The capacity for the panel discussion is limited, come on time if you want to be sure of your place.

8 pm – 9.30 pm in screening room 2

Reine Nkambiote (moderator)
Reine Elisabeth Nkiambote is a podcast maker and freelance host and moderator. She also works as a decolonisation adviser and communications officer in the Brussels political sector. A Congolese living in Antwerp, she graduated in journalism from Artesis Plantijn Hogeschool. She may be familiar to the public from her days as a reporter for VRT and as a presenter at BRUZZ. Today she co-hosts Yaya Talks together with co-founder Tracy Tansia. The podcast looks at "real life" as it is experienced by the two friends.
Jana Haeckel
Jana Johanna Haeckel is an art historian, curator and lecturer who currently serves as director of Photoforum Pasquart . She holds a PhD in art history and is associate researcher at the Lieven Gevaert Research Centre For Photography (KU Leuven/UC Louvain).
Her written and curatorial work examines image and body politics in contemporary art and new media, focusing on new ethics of photography in the age of the digital and art practices that subvert historical and colonial narratives through archival research.
Sammy Baloji
Sammy Baloji is an artist who divides his time between Brussels and Lubumbashi. He has a background in comparative literature and social sciences and started his career in art as a cartoonist. This was followed by a period of formal training in photography under the direction of Simon Mukunday and Marie-Françoise Plissart.
In 2005, Baloji turned his focus on researching the history of the Democratic Republic of Congo. His work is an ongoing examination of the cultural, architectural and industrial heritage of Katanga, a region in Congo, with a particular emphasis on the impact of its past as a Belgian colony. Baloji uses photographic archives to manipulate time and space, drawing comparisons between old colonial narratives and contemporary economic powerhouses. With his critical take on today's world, he warns of the ways that dominant cultural structures define the collective memory – allowing social and political powers to dictate human behaviour.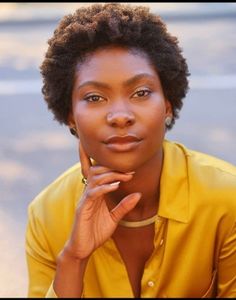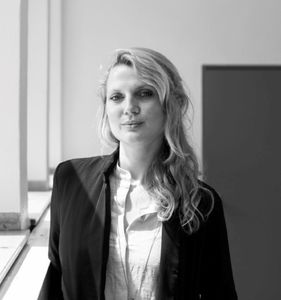 LIVE PERFORMANCE:
ANNIE LULU
Annie Lulu was born in Iaşi, Romania, to a Congolese father and a Romanian mother. In the early 90s, while still young, she moved to France and is now a professor of philosophy in the Paris region.
Romania was a racist country scarred by the dictatorship. Lulu never knew her father, a Congolese student, who disappeared soon after her birth. Ashamed throughout childhood of being mixed race, she decided to move to Paris. One day, she heard her father's name spoken on the street: Makasi. This was to be the starting point for a long journey to Kinshasa in search of her African roots. There, she would encounter love, political struggle, civil war and death all around her.
10 pm - 10.20 pm in the exhibition hall

CONTINUOUS SHOWING:
SHORT FILM PROGRAMME
SOEUR OYO (MONIQUE MBEKA PHOBA, 23 MIN)
In Colonial Congo of the 1950s, Godelieve, a 10 year old school girl, lives in a Catholic boarding school in Mbanza-Mboma, the first French-language secondary school for Congolese girls. She westernizes, according to her parents' wishes. Bu the memory of her grandmother interferes.
The film is co-produced by RUMBACOM SCRI, RTBF, and U-MEDIA. With the support of Fédération Wallonie Bruxelles, Vlaams Audiovisueel Fond, Organisation Internationale de la Francophonie, and the French embassy in DRC.

LA MAZDA JAUNE ET SA SAINTETÉ (SANDRA HEREMANS, 11 MIN)
A conceptual experiment on what it means to start a film with a black image, develops into a subtle personal essay about the filmmaker. The story of a missionary falling in love with a Rwandese girl, blends with what images and colonial history mean to their daughter.

E'VILLE (NELSON MAKENGO, 8 MIN)
E'ville (short for Elisabethville, name given to the city of Lubumbashi before 1960). A film in layers, which superimposes musical atmospheres, sound archives, images and ghosts. A juxtaposition of images of an empty place with the weight of history, through an intimate story in off: an open letter from Lumumba to his wife. The desolation of the place unfolds under the impulse of the voices and the bodies which cross it. Combining family intimacy with history, the film immerses us in the collective memory of the country.
7.45 pm - 11 pm at Cinema Lumière (room 1)
Marie Paule Mugeni reads
JEAN BOFANE
In Koli Jean Bofane (Mbandaka, 1954) is a Congolese writer and exhibit curator who has lived in Belgium since 1993. His books have won several prizes and been translated into several languages.
They include Pourquoi le lion n'est plus le roi des animaux (Gallimard Jeunesse, 1996) and Mathématiques congolaises (2008), Congo Inc. Le Testament de Bismarck (2014 ; Congo Inc. Bismarck's Testament, Indiana University Press, 2018) and La Belle de Casa (2018), all published by Actes Sud.
In his work, he tackles the themes of globalization and social and political violence in post-colonial African societies, particularly in Central Africa. He depicts the continent as a laboratory of the world, a concrete and marginal space where his characters bump into reality.
MARIE-PAULE MUGENI
Marie Paule Mugeni, artist from Brussels is active in the field of Slam poetry, and multidisciplinary scenes (traditional Rwandan dance, writing). She is a guest artist at Lezarts urbain and is part of the Sisterhood collective with whom she performs at the Festival Voix de femmes, KVS ...
At 24 years old, she has already realized poetic performances at Bozar, at the C.C.Jacques-Franck, at the Maison de la Poésie Namur interpreting her texts which evoke her experience as a black woman living in Belgium.
Marie-Paule Mugeni reads Jean Bofane
10.20 pm - 10.40 pm in the exhibition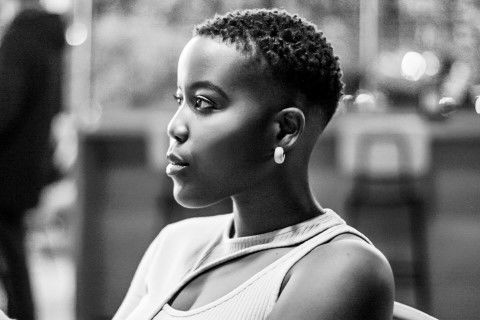 DJ-SETAGNES KENA
Fresh to the DJ scene, you probably are more familiar with Agneskena for her photographic work. Expect energetic beats and surprising blends that will make you travel from one continent to another.
10 pm - 12 pm at FOMU café