FOMU is opening at night! Look forward to a packed programme, with a panel discussion on what "masculinities" mean in 2021, live music from abrahamblue, and an artist talk by the American photographer Sam Contis. Jaouad Alloul is your host for the evening.
The Masculinities exhibition is open for the entire evening, and you can find food & drinks at the FOMU café.
PROGRAM
7 pm: Doors
8 pm: Panel discussion "What are masculinities anno 2021?"
9 pm: Live music by Abrahamblue
9.30 pm: Artist talk Sam Contis
10.30 pm: Museum closes
The Masculinities exhibition is open for the entire evening.

PANEL: WHAT ARE MASCULINITIES ANNO 2021?
What is masculinity? What images persist around masculinity and how toxic are they? These subjects will be tackled by moderator Jaouad Alloul in conversation with Nicola Brajato, Koen Dedoncker and Julius Thissen.

Jaouad Alloul
Artist and entrepreneur Jaouad Alloul is a true artistic chameleon. In 2020, Jaouad was chosen as one of the 101 new talents in the culture sector by the evening newspaper NRC. In the same year, the jury of the Antwerp Theatre Festival selected him for #nieuwjong (Emerging Artist). He has already performed his solo piece De Meisje on 50 occasions and is currently touring with his debut album Messias. He likes to play with the theme of gender and does not shy away from controversy. Jaouad, a compulsive storyteller, believes it's crucial for him as an artist to step out of his comfort zone. He experiences singing, acting, dancing, presenting, directing, photography, film, art and fashion as one big playground. His activism is showcased in the interfaces he creates between his many identities.

Nicola Brajato
Nicola Brajato is a PhD researcher in Fashion and Gender Studies at the University of Antwerp, funded by the Fonds Wetenschappelijk Onderzoek - Vlaanderen (FWO) (Research Foundation – Flanders). His current research is focused on the impact of Antwerp fashion on the redefinition of masculinities, the male body and men's fashion. He has published articles on the relationship between fashion, masculinity and the body in Critical Studies in Fashion & Beauty (Intellect), Dune: Writings on fashion, project and visual culture (FlashArt), The Culture, Fashion and Society Notebook (Pearson Mondadori), and Critical Studies in Men's Fashion (Intellect).
Koen Dedoncker
Koen Dedoncker is the project coordinator for the NGO ZIJN - Beweging tegen Geweld (Movement Against Violence), an organisation that creates campaigns and projects for the prevention of domestic and sexual violence. He is also the chairman of MoveMen. MoveMen invites boys and men to actively promote gender equality and violence prevention. MoveMen raises awareness about stereotypes and harmful perceptions of masculinity, and how these perceptions relate to gender (in)equality, relationships, discrimination, privilege and violence. In recent years, Koen has focused on working with boys and men in various settings on advocacy projects for gender equality and positive models of masculinity.

Julius Thissen
Julius Thissen lives and works in Arnhem (NL). Thissen's work investigates notions of community and representation, masculinity, sports and competition. The photographic works originate from Thissen's practice as a performance artist and seek to create narratives that explore the fine line between performing and failing. The theme relates powerfully to contemporary performance-driven culture and the influence of social expectations on our behaviour. The work also speaks to personal experiences as a genderqueer trans masculine individual. Thissen strongly opposes the constraining and often binary narratives imposed on transgender and queer people. Thissen has been nominated for the Hendrik Valk Prize, Arnhemse Nieuwe and the Warsteiner Blooom Awards. In 2017, Julius received an Emerging Artist grant and in 2020, a Mondriaan Fund Artist Project Grant.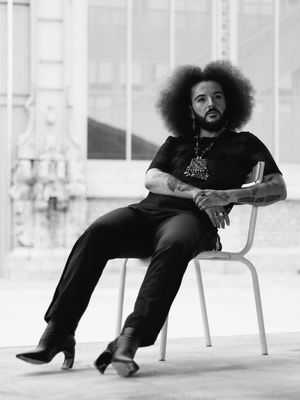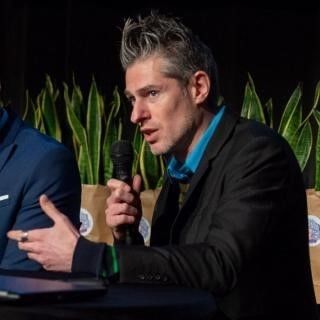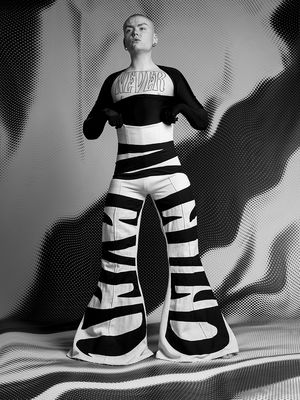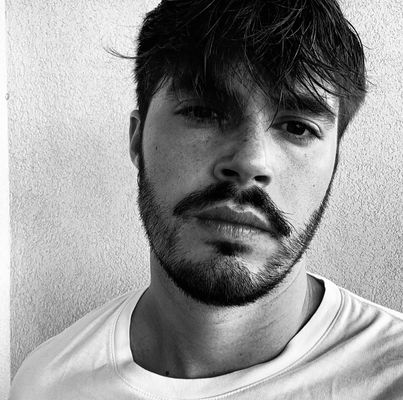 LIVE MUSIC: ABRAHAMBLUE
Based in Antwerp Belgium, abrahamblue grew up with an intricate love for music, which he cultivated over the years by listening to a broad spectrum of styles like the soundtrack of classic Arabic singers such as Fairuz, Abdel Halim Hafez or by dancing to Michael Jackson or by getting mesmerised by classics from Beethoven and Bach. Later, Blue discovered Jazz, which opened a whole new world for him. Add to this palet his love and appreciation for 90's hiphop, classic soul and even gospel music and you'll understand his eclectic identity. Blue taught himself to play piano, guitar, bass and later also tackled the drums.
During that process, blue experimented with singing and finding his own melodic groove, making his first steps to become a vocalist. With just a freestyle he managed to score a 'Most Promising Artist Of The Year' at the Redbull Elektropedia Awards. More interested in studying music than releasing quick tracks Abraham evolved towards producing and songwriting. This patient journey of self-study manifested in his much anticipated EP debut 'Tracks I Made Last Summer'. His debut EP got support from BBC1, was catch of the day at Studio Brussels and made it to the Colors blog.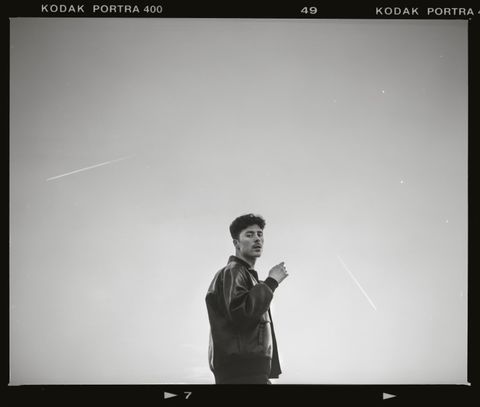 ARTIST TALK: SAM CONTIS
Sam Contis is an American artist working primarily with photography to examine the relationships between body and landscape, identity and environment. Her work was recently included in Being: New Photography at the Museum of Modern Art in New York and her book Day Sleeper, a reimagining of the work of Dorothea Lange, was published by Mack in 2020.